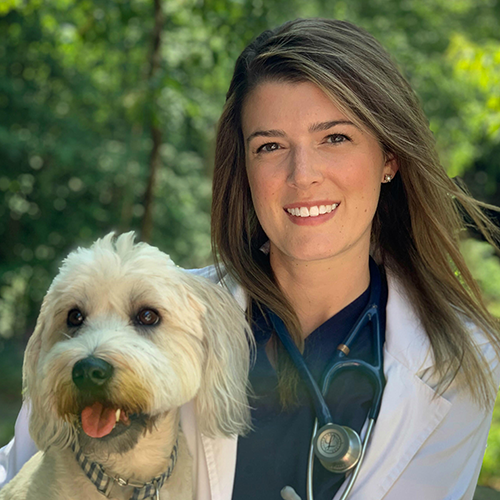 Dr. Greer Gafford
Associate Veterinarian
Dr. Greer Gafford has always had a deep love for animals, and she grew up surrounding herself with animals of all kinds. She was drawn to everything from lizards found in her backyard, to the horses she rode at the barn near her home, and of course to her beloved family dogs and cats. When she was nine years old, Dr. Gafford spent the morning shadowing her family's veterinarian, where she instantly fell in love with the profession. When her mother came to pick her up at lunch, she begged her to stay the rest of the day. From that day forward, Dr. Gafford knew her dream was to become a veterinarian!
Dr. Gafford was born and raised in Atlanta and went to school right around the corner from Animal Hospital of Sandy Springs at Holy Innocents' Episcopal School. She completed her undergraduate degree at The University of Georgia (Go Dawgs!), where she competed on UGA's Cross Country and Track and Field teams. Following her graduation from UGA, Dr. Gafford made a big move from Athens, Georgia to Grenada, West Indies to begin her veterinary education at St. George's University School of Veterinary Medicine. On the island, Dr. Gafford gained experience with animals ranging from tiny kittens to the Leatherback Sea Turtle, the largest sea turtle in the world!
For her final year of veterinary school, Dr. Gafford returned to Athens, Georgia to complete her clinical rotations at The University of Georgia College of Veterinary Medicine. She graduated cum laude from St. George's University in June 2019, and could not be more thrilled to begin her career as a veterinarian at Animal Hospital of Sandy Springs.
Dr. Gafford lives in the Atlanta area with a wiggly Wheaten Terrier. She enjoys running, exploring trails, and slipping down to Florida beaches whenever she can!