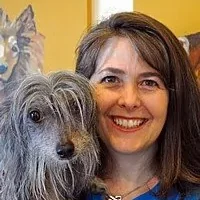 Dr. Ella Ahearn
Co-Owner, Veterinarian
Dr. Ella Ahearn was exposed to the medical field early on—her father was an orthopedic surgeon, and her mother was a nurse. Having grown up with everything from dogs, cats, and ponies to goats, rabbits, and ducks, Dr. Ahearn decided that the best way to combine her adoration of animals with her interests in the medical world was by becoming a veterinary professional!
Thanks to her father's years in the Army, Dr. Ahearn lived in various states growing up and eventually settled in the South Carolina and Georgia area. She attended Clemson University, where she was first exposed to large-animal husbandry to balance her small-animal care experience. She received her veterinary degree from the University of Georgia, concentrating in companion animal medicine. This sparked a veterinary career that has lasted more than 20 years—to this day, Dr. Ahearn loves what she does just as much as the day she started!
Dr. Ahearn purchased half of the Animal Hospital of Sandy Springs in January of 2002, and has happily been practicing here ever since. She has particular medical interests in wellness care, preventative medicine, and dentistry work. Dr. Ahearn is also fond of geriatric pet care, largely because of her own aging four-legged friends' needs.
At home, Dr. Ahearn, her husband, and their two children share their lives with a Chinese Crested dog named Violet, a Belgian Malinois who goes by Amess, and a pair of felines named Maui Jim and Traveller. When she's not spending time with her family or caring for the area's pets here at the hospital, Dr. Ahearn enjoys volunteering at her kids' school, knitting, cooking, hiking, and reading a good book.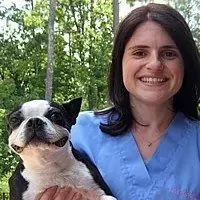 Dr. Lisa Wright
Co-Owner, Veterinarian
When she was eight years old, Dr. Lisa Wright's family dog was hospitalized right here at the Animal Hospital of Sandy Springs. Dr. Wright recalls that the dog would only eat when she came to visit her. At that moment, Dr. Wright realized the true importance of the bond between pets and their owners, and wanted to do whatever she could to nurture it! As a full-time veterinarian and the Co-Owner of the hospital, she's able to help animals and have an impact on the families that love them every single day.
Dr. Wright is a native of Sandy Springs and attended Emory University to study economics. After her junior year, she decided to follow her heart and began taking the necessary pre-requisite courses for an education in veterinary medicine. She attended veterinary school at the University of Georgia, graduating with her Doctorate of Veterinary Medicine in 2008. She started here at the clinic right out of veterinary school, then became Co-Owner in June of 2015.
In her spare time, Dr. Wright enjoys reading and going to Lake Lanier to spend time with her friends and family. She lives with her husband, Tyler, their son and daughter, and a Boston terrier named Joely who insists on being the center of attention at all times.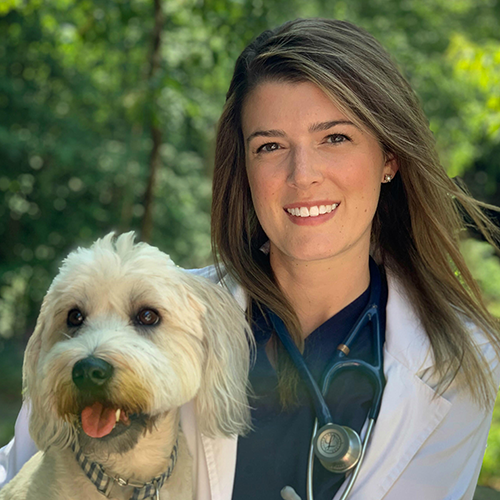 Dr. Greer Gafford
Associate Veterinarian
Dr. Greer Gafford has always had a deep love for animals, and she grew up surrounding herself with animals of all kinds. She was drawn to everything from lizards found in her backyard, to the horses she rode at the barn near her home, and of course to her beloved family dogs and cats. When she was nine years old, Dr. Gafford spent the morning shadowing her family's veterinarian, where she instantly fell in love with the profession. When her mother came to pick her up at lunch, she begged her to stay the rest of the day. From that day forward, Dr. Gafford knew her dream was to become a veterinarian!
Dr. Gafford was born and raised in Atlanta and went to school right around the corner from Animal Hospital of Sandy Springs at Holy Innocents' Episcopal School. She completed her undergraduate degree at The University of Georgia (Go Dawgs!), where she competed on UGA's Cross Country and Track and Field teams. Following her graduation from UGA, Dr. Gafford made a big move from Athens, Georgia to Grenada, West Indies to begin her veterinary education at St. George's University School of Veterinary Medicine. On the island, Dr. Gafford gained experience with animals ranging from tiny kittens to the Leatherback Sea Turtle, the largest sea turtle in the world!
For her final year of veterinary school, Dr. Gafford returned to Athens, Georgia to complete her clinical rotations at The University of Georgia College of Veterinary Medicine. She graduated cum laude from St. George's University in June 2019, and could not be more thrilled to begin her career as a veterinarian at Animal Hospital of Sandy Springs.
Dr. Gafford lives in the Atlanta area with a wiggly Wheaten Terrier. She enjoys running, exploring trails, and slipping down to Florida beaches whenever she can!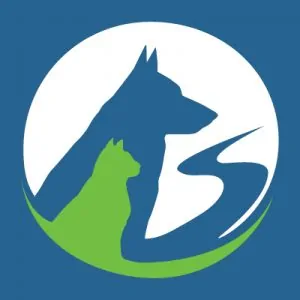 Dr. Meggan Ballowe
Associate Veterinarian
Dr. Ballowe grew up with a love for animals, and she liked studying science in school. After graduating with an English degree, she got her first job in the veterinary field and was hooked. She went on to spend 24 years in this field—two as a veterinary assistant, four as a vet student, and 18 as a veterinarian.
She loves the approach we take with pets and their families at AHSS--we take the time to listen and to bond (with animals and people), and this allows us to provide the best possible care. Plus, the staff is fantastic!
Dr. Ballowe credits the veterinary field with her constantly-evolving menagerie, which currently includes a pittie mix (The Dude), three rats, and a hamster. She enjoys spending her free time with her family, reading, cooking, traveling, and sewing (especially designing clothing and costumes).